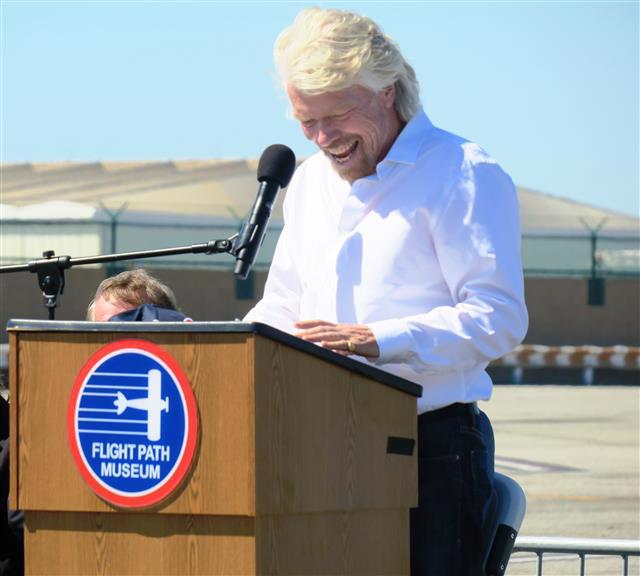 Los Angeles—Entrepreneur, philanthropist and Virgin Group founder Sir Richard Branson was inducted into the Flight Path Aviation Walk of Fame during a ceremony held on the tarmac at Los Angeles International Airport (LAX) at the Flight Path Museum and Learning Center on Wednesday afternoon.
The businessman, who counts Virgin Atlantic, Virgin Australia and Virgin America airlines among more than 400 businesses he has had a role in creating or managing, is the 54th inductee in the Walk of Fame, which was created in 1995 and features plaques along Sepulveda Boulevard in Westchester, just north of the airport.
"I've been fascinated by flight ever since I was a little boy looking up to the skies," Branson said, accepting the plaque during Wednesday's ceremony. "I've had the privilege of meeting and often working with many of the geniuses of flight, the inventors, the adventurers, the daredevils and the dreamers. What they all have in common is the desire to make the world a better place and see it from a different angle."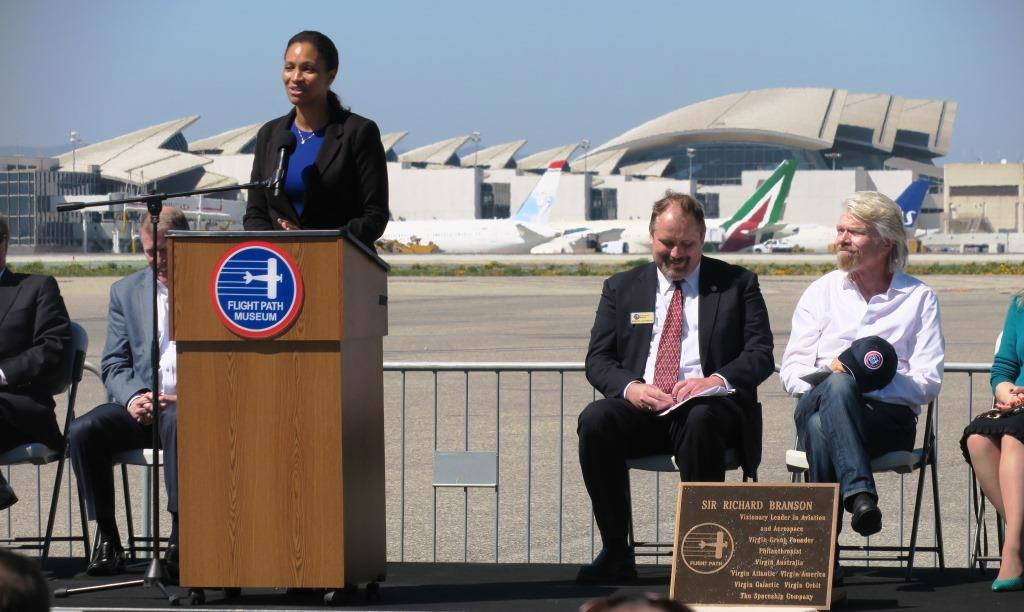 Los Angeles World Airports CEO Deborah Flint gives a tribute to Sir Richard Branson during Wednesday's induction ceremony.
Branson, 67, has connections to aviation that run well beyond the three airlines that bear the Virgin name. Going back to the oldest form of flight, he holds records in long-distance ballooning, while Virgin is on the cutting edge of space with one of its latest additions, Virgin Orbit, which was spun off of Virgin Galactic last year and is developing the orbital launch vehicle LauncherOne.
LAX is the only airport in the world served by the trio of Virgin airlines, and many of Wednesday's speakers noted Branson' influence on commercial passenger travel.
"He is an adventurer, a dynamic businessman, and, what I believe, is one of the original disrupter throughout industries," said Deborah Flint, Chief Executive Officer of Los Angeles World Airports (LAWA). "You make dreams and realities very possible through the work that you have done. Indeed, Virgin and Sir Richard Branson are an indelible part of our story and our history here at LAX."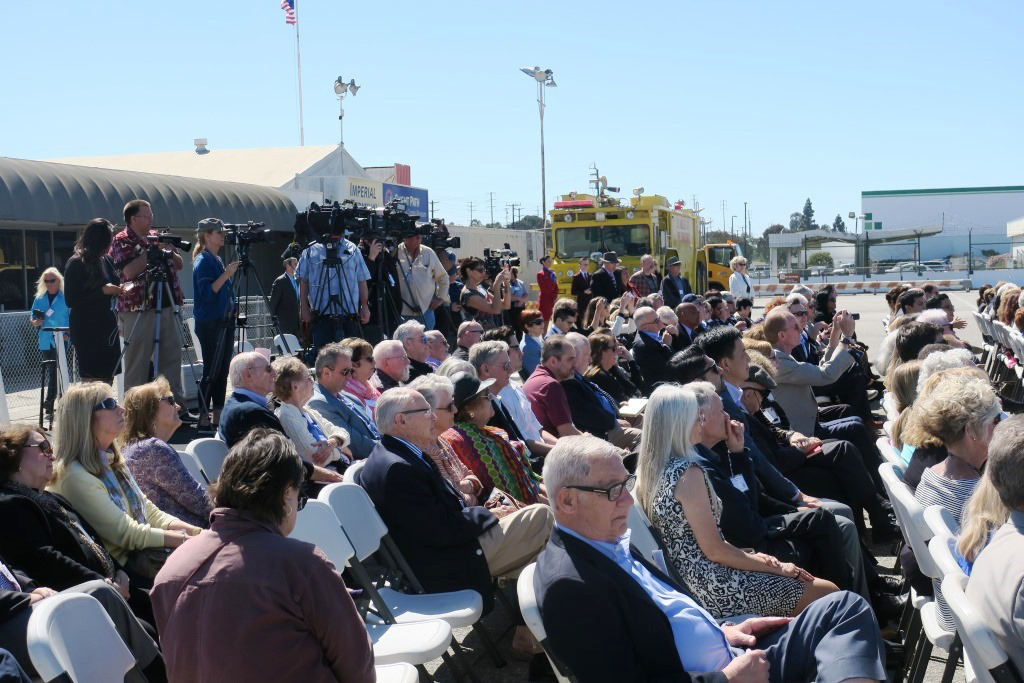 "We have a lot of customers, but Sir Richard is one of our favorites," said Monty Oliver, Vice President of European Sales for Boeing Commercial Airplanes. "Today's recognition is very much deserved as we celebrate a great pioneer in aerospace who continues to push the boundaries for what's possible in commercial travel."
"Richard, you are a well-deserved recipient of this award," Steven Udvar-Hazy, the Executive Chairman of the Board at Air Lease Corporation, told Branson. "Your airlines have made a major contribution to the California economy; your innovation, creativity in airline service and customer focus is unequalled. We've very proud of what you've achieved."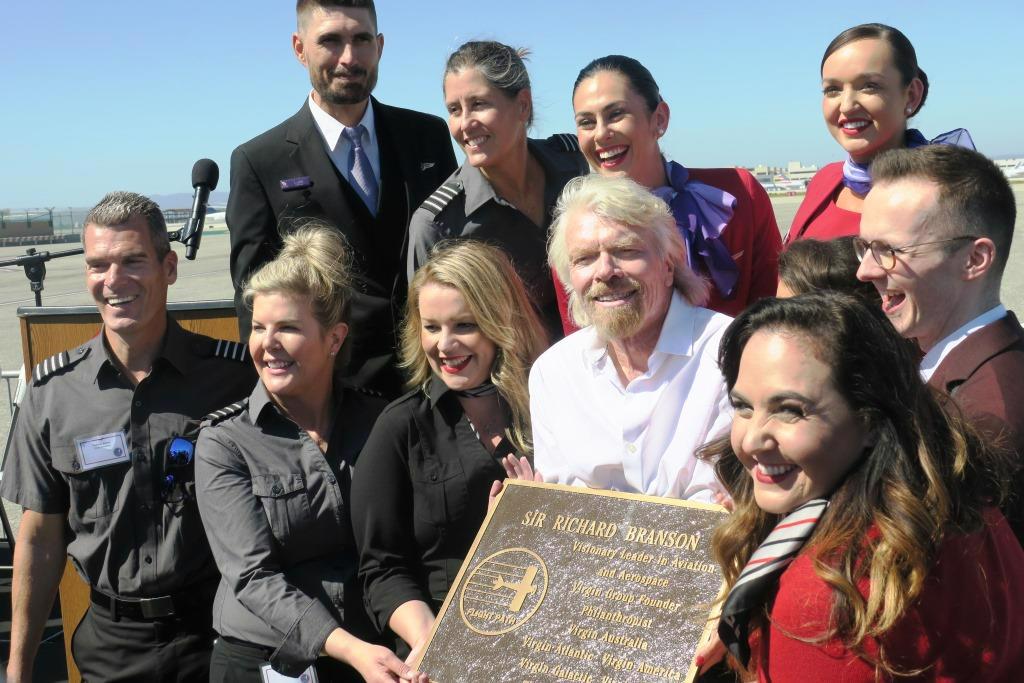 Branson was presented with his plaque by Flight Path Museum Board of Directors President Lynne Adelman and Vice President Lori Keir. He joins a distinguished group of past inductees – pioneers and individuals who helped ensure Southern California's world leadership in aviation/aerospace – including the first man to break the sound barrier, retired Air Force Brig. Gen. Chuck Yeager;  entrepreneur, pilot and airline founder Howard Hughes; and Apollo 12 astronaut Pete Conrad. Other honorees include Orville and Wilbur Wright, Charles A. Lindbergh, Amelia Earhart, entertainer Bob Hope and astronaut Sally Ride.